THE HONOUR ROLL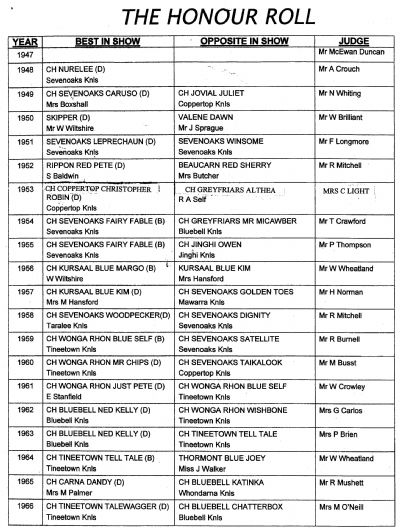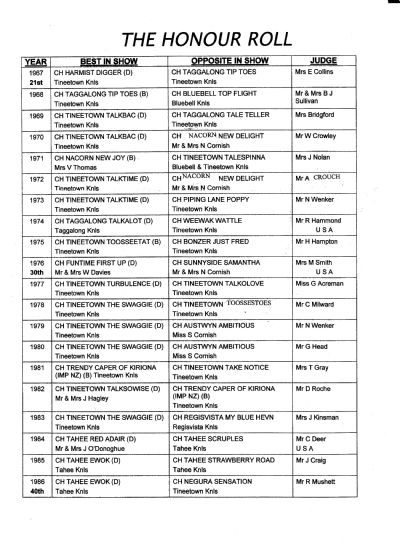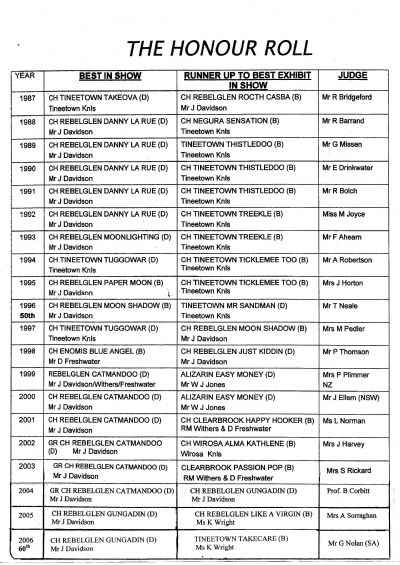 -------------------------------------------------------------------------------------------------------------------------------------------------------

YEAR BEST IN SHOW RUNNER UP TO BEST EXHIBIT JUDGE
2007 GR CH REBELGLEN GUNGADIN (D) REBELGLEN NITE RIDER (D) Mrs J Braithwaite-Campbell
Mr J Davidson Mr J Davidson
2008 GR CH REBELGLEN GUNGADIN (D) CH REBELGLEN LIKE A VIRGIN (B) Mr J Thompson
Mr J Davidson Ms K Wright
2009 REBELGLEN INYA DREAMS (D) CH REBELGLEN LIKE A VIRGIN (B) Mrs C Scotton
Ms K Wright & Mr J Davidson Ms K Wright
2010 CH REBELGLEN SLICE OF HEAVEN (D) CH REBELGLEN LIKE A VIRGIN (B) Mr K Campbell
Mr J Davidson Ms K Wright

2011 GR CH REBELGLEN LIKE A VIRGIN (B) CH GREENHAVEN DYNAMITE (B) MR I HINDE
Ms K Wright Ms K Wright

----------------------------------------------------------------------------------------------------------------------------------------------------------------------------------------------------------------
2012 CH REBELGLEN POKER FACE (D) AU&USA CH WISMISS AUSSOME STURT PEA (D) Mrs A Lane

Mr J Davidson Mr J Davidson Ms K Bryan Ms C Sazama
--------------------------------------------------------------------------------------------------------------------------------------------------------------------------------------------- 2013 CH REBELGLEN SLICE OF HEAVEN (D) GR CH REBELGLEN INYA DREAMS MR N HODGKINS

MR J DAVIDSON MS K WRIGHT MR J DAVIDSON
----------------------------------------------------------------------------------------------------------------------------------------------------------------

AUSTRALIAN TERRIERS
(A personal overview of the past 60 years of Aussies in Victoria Australia)
I begin this article with the preface that it is, not written on behalf of any club or person and is my own personal opinion.
Many things have been written re the history and creation of the Australian Terrier, and it is not my intention to traverse those same tracks, but rather to concentrate on the dogs in this state that have "given" to our beloved breed since the formation of the Australian Terrier Club of Victoria on the 12th February 1947, the 1st President being Mr. Fred Wheatland and the 1st Secretary Mrs. Marjorie Bywater (Sevenoaks Knls).
Unfortunately no amount of effort has been able to find the name of the winner of the very first (1947) show, the 1st recording being of the 1948 show won by Ch. Nurelee owned by Sevenoaks Knls.
Sevenoaks Knls was predominant in the early years of the club, some of the winners being Ch Sevenoaks Fairy Fable, Ch Sevenoaks Leprechaun, Ch Sevenoaks Woodpecker, Ch Sevenoaks Taikalook and many more, with many of these being behind the dogs of today.
In the early 1960'sTinee Town Knls (Mrs Pat Connor) came to the fore with a string of winners, most notably being Ch Tinee Town Talkbac who went on to American,Columbian,Mexican & Bermudan titles after being exported to USA .
Others of note were Ch Tinee Town Talktime, who was the 1st Aussie to win a best in show at a Royal Show, namely Sydney Royal 1973. Ch Tinee Town Tell Tale, Ch Tinee Town Talewagger, & Ch Tinee Town The Swaggie, Swaggie won 3 consecutive Best in Specialty 1978-80 to be followed by a fourth in 1983. The breeds 1st All Breeds Best in show winner in Victoria (1968) was owned by Tinee Town Knls, Ch. Taggalong Tip Toes, who was also exported to USA.
The dogs of this Kennel also have had a great influence on the breed in Australia and in fact all over the world with many exports having been sent to the USA and Scandinavia.
Other kennels to feature during these early years were Bluebell, Nacorn, Whonga Rhon, Harmist & Kursaal.
In the late 80's John Davidson of Rebelglen started to make his mark on the breed with Ch Rebelglen Danny La Rue, an All breeds best in show winner and winner of 5 specialty Best in Show in succession, Danny produced Ch Rebelglen Moonlighting a specialty and All breeds Best in show winner himself, who when mated to Ch Rebelglen Moon Shadow, winner of our 50th Anniversary show, produced Gr. Ch Rebelglen Catmandoo who went on to 6 specialties in a row in Victoria,4 interstate specialties,39 Best In Group , 4 Best in show All Breeds and Runner-up in Show at Melbourne Royal 2001 .

The "Aussie" has come a long way in these years and is now consistently considered for & awarded high awards by Judges from all around the world.
Unfortunately now we have Government legislation that has banned taildocking causing several breeders to quit and leaving us with a very different Aussie. I believe that Ch Silknspring Princesszena (Qld) was the first undocked Champion in this country.
At the beginning I said the first specialty was held in 1947, the Judge on that occasion being Mr. George McEwin Duncan, who wrote the following in the 1949 Australian Dog News Annual.
**Australian Terriers – the Aussie club has boosted this smart little dog along and if breeders set about systematically to breed to line, they may in a few years reach uniformity in their dogs. In the past when judging it has been difficult to find two alike. Produced originally from three breeds, Yorkshires, Cairns and Dandie Dinmonts, when an outcross was introduced into the strain reversion takes place with disastrous results. Breeders should specially strive for CHARACTER , for the Australian Terrier should be essentially a bright little chap chock full of "swank" and importance.**
I wonder what he would write if he could see the Aussies some 60+ years on since that very 1st show.

To all those dedicated breeders of our beloved Aussie I say "keep the faith", keep him true to his nature & type.

Jim Jones

Alizarin Australian Terriers.